Fradette Law PLLC has been engaged in the general practice of law in the State of New Hampshire since its inception. From our offices in Manchester, we provide comprehensive legal services throughout state to individuals, businesses & licensed professionals.
 to provide professional, quality legal representation in a timely, responsible and economical manner.  In all matters,  focus on meeting each client's individual legal needs while maintaining  commitment to excellence.
Essential to this commitment is  in-depth knowledge of his area of concentration.  It also means responding quickly to each client's particular needs, whether returning phone calls, arranging a meeting, or preparing requested documents.   worked hard to develop skills and expertise   to  quality representation.
Mr. Fradette is known and respected for his in-depth knowledge of the law and his formidable litigation skills, having won multi-million dollar verdicts, and for his commitment to representing his client's interests in a very personal way.  Mr. Fradette approaches each case with a sense of creativity, always "mining" the voluminous case file for "nuggets of gold" in the facts.  As a plaintiff's attorney, Mr. Fradette views each case as a blank canvas for him to paint his client's story for presentation to a jury.  He always prepares his client's case for presentation to a jury from the outset.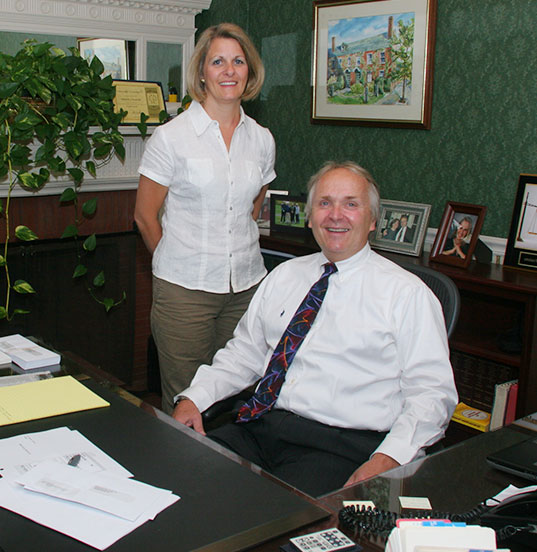 N.H. Pharmacist Awarded Over $31 Million Against Walmart in Employment Suit
CONCORD, NH – January 28, 2016 – New Hampshire Pharmacist Maureen McPadden was awarded over $31 million in her gender discrimination, whistleblower, retaliation, and wrongful termination lawsuit against Walmart yesterday...

$2M Pharmacist Verdict Affirmed by MA Supreme Judicial Court​
Working women across the country are celebrating a legal victory for a woman in Massachusetts. Cynthia Haddad of Pittsfield sued Walmart for gender discrimination – and won. Now, the state supreme court has upheld a multi-million dollar award...​

Attorney Fradette Wins $2 Million Verdict For Pharmacist Against Wal-Mart​
Pharmacist Cindy Haddad alleged that Wal-Mart (WM) discriminated against her in wages and enforcement of WM policies (as compared to male pharmacy managers) and wrongfully terminated her under the pretext of having violated an ambiguous...

Attorney Fradette Wins $1.8 Million Verdict Against Dartmouth Hitchcock Clinic In Concord, N.H.
A 78 year old male was diagnosed with coronary artery disease and underwent triple coronary artery bypass surgery on March 7, 2001. The surgery was successful. On March 8, he developed what appeared to be either atrial fibrillation...

Attorney Fradette Wins $480,000 Verdict In Manchester, N.H.
In May of 2001, Cheryl was diagnosed with end-stage renal failure and advised that she would require dialysis or a kidney transplant. Thereafter, she was worked up for a kidney transplant, including a trip to Wisconsin to be typed for a possible dual pancreas and kidney transplant...

Attorney Fradette Wins $25k Defamation Verdict For Medicine World Pharmacy in Nashua, N.H.
This case involved a pharmacist filling prescriptions for patients who were members of MTHP and then submitting claims to MTHP for payment. The pharmacy was not an "approved network provider" with MTHP...